Upper Key Stage 2
On this page you will find information and updates for Aquarius, Aquila, Antares and Libra classes.
Exploring French Culture
Last week, our French partner school held their annual 'English week', so Year 5 spent a couple of afternoons exploring French culture ourselves. We played traditional French playground games, including '1,2,3 Soleil' and 'Pechêurs poissons'. We enjoyed working in groups to recreate art work originally by Henri Rosseau- Tiger in a tropical storm. One of our highlights was to chat to our French friends from 'La Sidoine' School. If you speak to a Year 5 pupil, ask them to sing 'Heads, shoulders, knees and toes' to you in French.
The Great Wave
In Art , Year 5 have been looking at The Great Wave print by Hokusai. We have explored mono and relief printing and completed our unit of learning by designing a printing tile on polystyrene and printing onto both fabric (that we had previously tie-dyed) and paper. To add texture, pupils learned running stitch and back stitch and then added stitches onto their printed fabric. It was great fun!
Amazon Adventure
Year 5's English learning this term is based around 'The Explorer' by Katherine Rundell. Today (18th May) we adventured into a section of the Amazon rainforest, up river from the city of Manaus. We were using our imagination as we were really located in our School's Secret Garden! After having focused on a specific chapter- The Den- Year 5 pupils re-enacted moments from the story, acting in character as they began building a Den. The children enjoyed sampling exotic fruits that they 'found' in the rainforest along with a tasty selection of meal worms, crickets, locusts and Buffalo worms…. They knew they had to eat to stay alive! This super session will lead into writing their own chapter for the story.
Clouds
Year 5 completed projects about Clouds at home. Year 5s are very knowledgeable and enthusiastic to share what they have learnt. In class, they have shared their projects with each other and we have created a display in the corridor so that others can have a look – and learn amazing facts about clouds. Here are a selection of photos of our sharing session and of their projects.
Year 5 Cloud Projects
Year 5 have been working hard over the Easter holidays to design and create our own cloud projects. We had a lot of fun learning about the different types of clouds – this was part of our school SPINE unit of work.
Art
Year 5 have focused on developing drawing skills in Art this term. We also explored some painting styles by Julian Opie and Colin Davidson. Here is a selection of our mark-making skills practice and our final portrait pieces – in Viking style.
Year 5 – Wow event
Pupils enjoyed re-telling their own versions of a Beowulf style story around the firepit.
World Book Day Celebrations 2022-Year 5
Destination Outer Space!
Year 5 pupils were set a homework project challenge based on our theme 'Destination Outer Space!' many of our pupils are now Space Experts! Their projects are really impressive and we would like to share them with you. Here are a selection of images of their work:
French TEAMs Call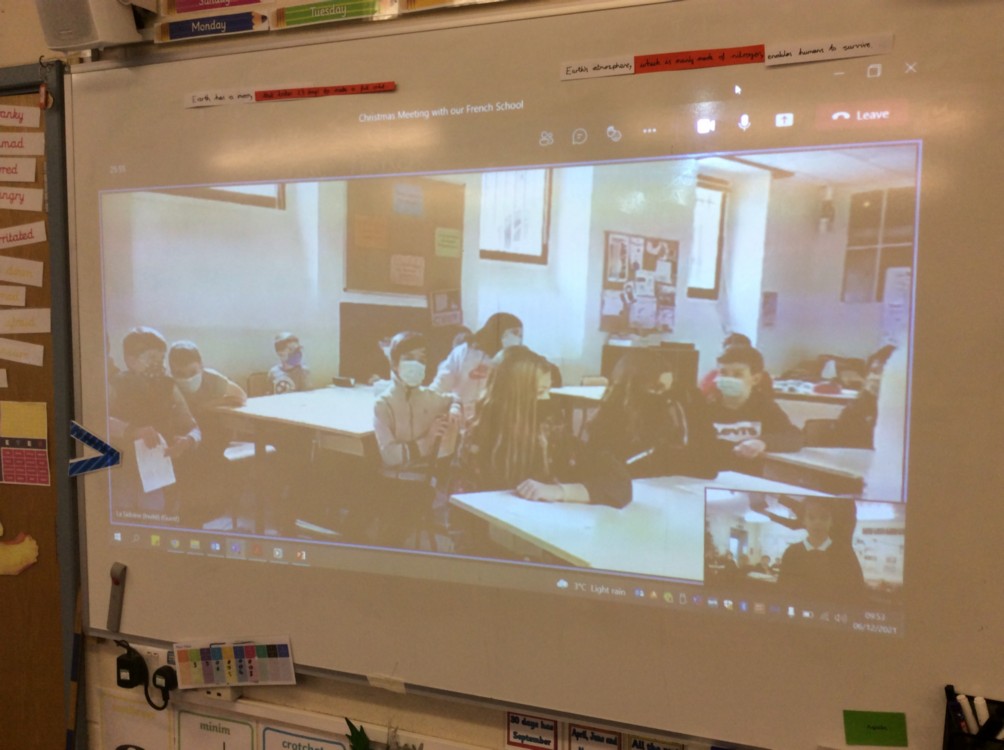 On Monday 6th December, Aquila class in Year 5 had a TEAMs call with our French friends at La Sidoine School in Trevoux. It was great to see them again and learn about each others' cultures. Today, our focus was Christmas traditions. We sang 'Le bonhomme de neige' to them and they sang 2 English carols to us: 'Joy to the World' and 'Silent Night'.
We are exchanging Christmas cards with them, which is exciting.
Year 5: Planetarium
We had an exciting opportunity to explore Space in a practical manner. We learnt lots of good facts, put our knowledge from our Science lessons to the test and took part in some star gazing inside the dome.
Throughout the show/workshop, our pupils recalled so many interesting facts that they already knew – which impressed the presenter- and also learnt many more facts. It was super to see the night sky and explore the constellations.
Year 5 - Space Projects
In Year 5, we have had great fun learning about Space this term in Science. We were challenged to carry out our own research at home to create out very own, unique projects. We have learnt even more fun facts!
Year 5: Planets
For the last 2 weeks, Year 5 have been researching information about planets and working in groups to create a non-chronological report on aspects of our Solar System. Great team work and a super effort to consider authorial intent with designing the page layout.
Antares Class: WW1 Slab Pots
Antares Class created slab pots based on designs from WW1.
Year 5: Safety Week
Last week, 8th -12th November we celebrated and recognised Safety week in School. One of our activities in Year 5 was designing and making a hi-vis tag for our bags, to help us be seen at dusk/in the dark.
One side was a fluorescent/neon design to help us to be bright and to be seen on dull days; the other side was reflective to help us to be seen at dusk/in the dark.
Have a look at some of our tags.
Year 5: Anti-Bullying Week
As part of recognising Anti-Bullying Week (15th-19th November 2021), Year 5 have explored what bullying is and how it makes people feel. They discussed a variety of scenarios where children were being unkind and made suggestions on how to resolve the situations. As the theme this year is 'One Kind Word', our Y5 pupils designed and painted an Anti-bullying/Kindness superhero. It was the first time they have used watercolours- they were impressed with their art. Which superhero would you seek advice from? Take a look….
Amazon reports
Year 6 created their own non-chronological reports on the Amazon rainforest and was asked to present their work as creatively as they could.
English Writing
This week we are independently writing our own complaint letters, using persuasion. We are using the skills we have already learnt when writing a piece for 'The Day the Crayons Quit' to help us generate our ideas and today our chairs went on strike as they wanted to quit! We were not happy with them.
Bronze Young Ambassadors
We have selected our eight Bronze Young Ambassadors for this academic year and we attended training last night with other schools. We learnt our job roles, what qualities we need in order to be a great BYA and how to work as a team. We even won every challenge set on the evening! We set ourselves targets for the year in order to promote healthy lifestyles and physical activity across the school. We are excited for our journey this year!
Short Division
In our Maths lesson today (11.10.21), Year 6 have started their unit of work on 'Short Division'. Using manipulatives and a place value grid, we began to 'group' our manipulatives to help us solve short division calculations (with and without exchange).