Upper Key Stage 2
On this page you will find information and updates for Aquarius, Aquila, Antares and Libra classes.
Gallery
Pond Dipping 20th March
Sit Isaac Newton Thursday 19th March
After researching Isaac Newton, we published our writing in our own chosen way.
Exploring static electricity Thursday 19th March
Tin Foil Boats 18 March
On Tuesday afternoon, Year 5 were set a challenge to design and create a boat from a piece of tin foil that would hold the most mass. This required them to apply their prior learning about forces from the Autumn Term. We discussed gravity, water resistance and upthrust. We also had a discussion about what happened to the level of bath water when you get in, learning that we displace water and that boats also displace water. In order to float (and hold a larger) they need to displace more water. After a few exploration attempts (with access to water and pennies), the challenge was on! Here are a selection of photos for you to peruse. The designs had varying success – 19p up to a staggering 108p. The maximum mass held was 382 grams (if I remember correctly).
Best Insulators 18 March
Here are a selection of photos that show Year 5 investigating which material is the best insulator. They used thermometers and data loggers to keep track of how the water's temperature changed over 15 minutes. The majority of groups found that the fur material was the most successful insulator because it is thicker.
Ice Breaker Boats 18 March
Today, Year 5 were able to test our ice breaker boats to see which boat broke through the ice the most effectively and in the fastest amount of time. We decided on overall winners for the most attractive and the most effective.
Year 5 Chromatography experiment
We looked at the Earth's atmosphere and its significance, then used chromatography to create our own representation, before experimenting with different coloured felt tips and having scientific fun.
Exploring animals that are insulated by a layer of Blubber. 'Blubber gloves' experiment.
Year 5 used a data logger to measure the temperature differences. 1.7 degrees versus 21 degrees.
Children could try this with their hands in the gloves at home.
Science Week 13 March
Here are a selection of photos taken during our Science Week launch activity on Friday 13th March- building ice-breaker boats. Parents were invited in to join in the fun and to offer their advice and support.
Hockey 5 March
This term Year 5's topic is Hockey in PE. This week our focus has been dribbling – here are some photos showing our great control when focusing on our dribbling skills.
Year 5's World Book Day Potato Characters 6 March
World Book Day 5 March
Year 5 have created this wonderful homage to Artemis Fowl by Eoin Colfer as part of their World Book Day celebrations. This is their class book for their term and they decided to create their own version of the book cover using a variety of skills. Across the year group, they all showed great teamwork, determination and tremendous amounts of effort. They have thoroughly enjoyed their World Book Day morning.
We tweeted our creation to the author himself (Eoin Colfer) and we were lucky enough to receive a reply! He replied saying it was one of the greatest tweets he had ever received!
Year 5 Anglo Saxon Day 4 February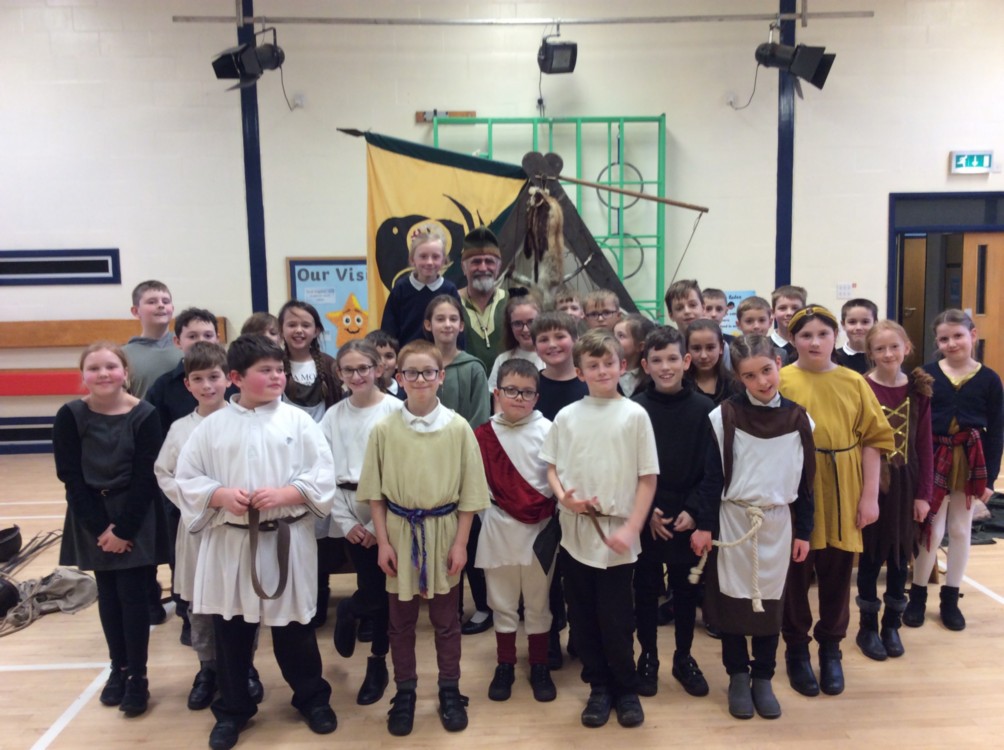 Today, we (Year 5) met a real Anglo-Saxon named Hrothgar as part of this term's WOW event for our topic 'The Anglo-Saxon Settlers'. He started our day off by raiding our classrooms followed by an inspiring, activity-based workshop that brought the Anglo-Saxon period to life. We all took part in acting out the Beowulf story, explored life as a Saxon warrior including learning about Saxon weapons, learned how to play a typical Saxon game and lit a fire in the traditional Saxon way. Here are a few highlights of our day – we had so much fun and learnt lots!
You can find out about Hrothgar on his website: www.manaraefan.co.uk (Viking, Saxon or Norman school visits), or by emailing him direct: Hrothgar@manaraefan.co.uk

Y5's Christmas Cards from France
Year 5 pupils had the opportunity to send and receive Christmas Cards to our friends in France. Here is a photo of us with our cards!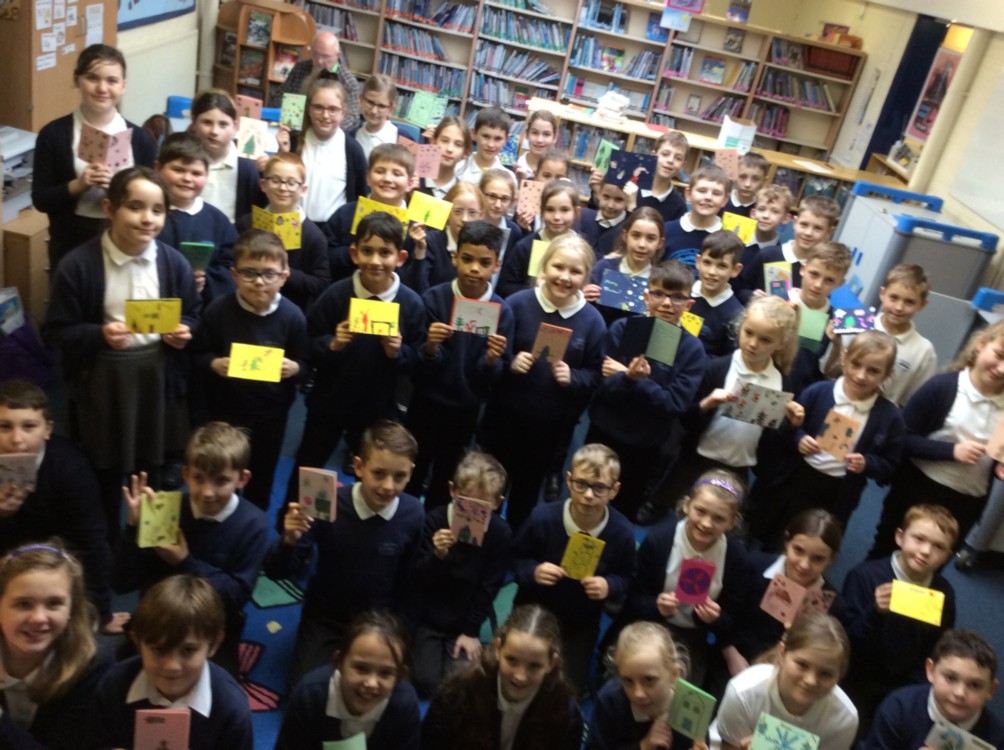 Aquarius Christmas Lunch and Jumper Day
Year 5 Space projects Tuesday 17th December
Here are a selection of the projects based around the theme of Space.
Year 5 Space gallery Tuesday 17th December
Year 5 invited parents to a pop-up Space gallery. It was a popular event, which allowed our pupils to showcase their homework Space projects, their Space models with cam mechanisms to allow movement, and their recent English work based on life on Pandora (a fictional Moon in another Solar System).
Aquila Class Christmas Jumper Day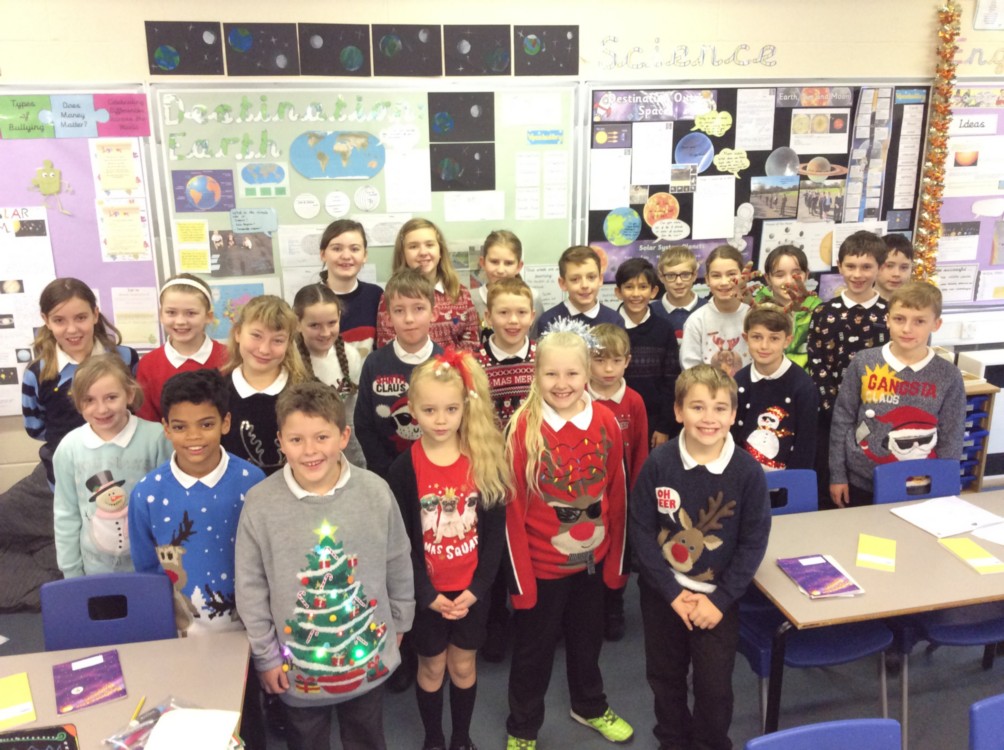 Antares trip to the We'll Meet Again Museum 13th December
Skype Call 5th December
This morning, 5th December, Year 5 pupils enjoyed a Skype call with our partner school in France. It was our first meeting with Madame Gonzales' class- very exciting!
The children from France sang Jingle Bells to us in English and we performed a couple of songs we have learnt in French.
Then we had a questions and answers session, discussing and comparing Christmas traditions. We also compared our school clothing and discussed our 'Houses'. The school in France now have Houses too (after their teachers visited our School in Summer 2018 and took the idea back to their school). We will be exchanging Christmas Cards with our new friends.
Henry Moore 29 November
Year 6 have been doing some Art in the style of Henry Moore, a war-time artist.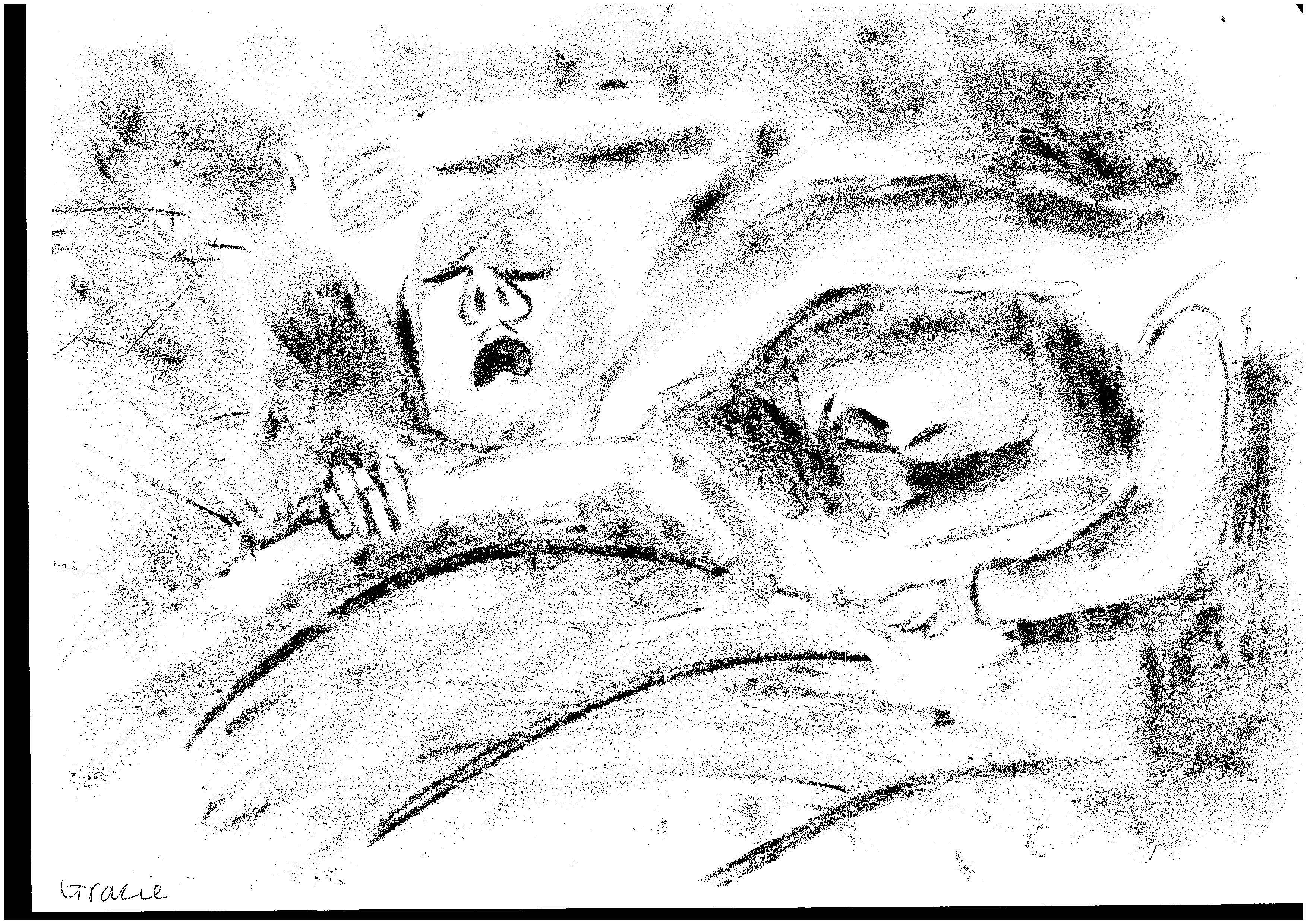 Law of Reflection 29 November
Year 6 have been doing science work based on the law of reflection.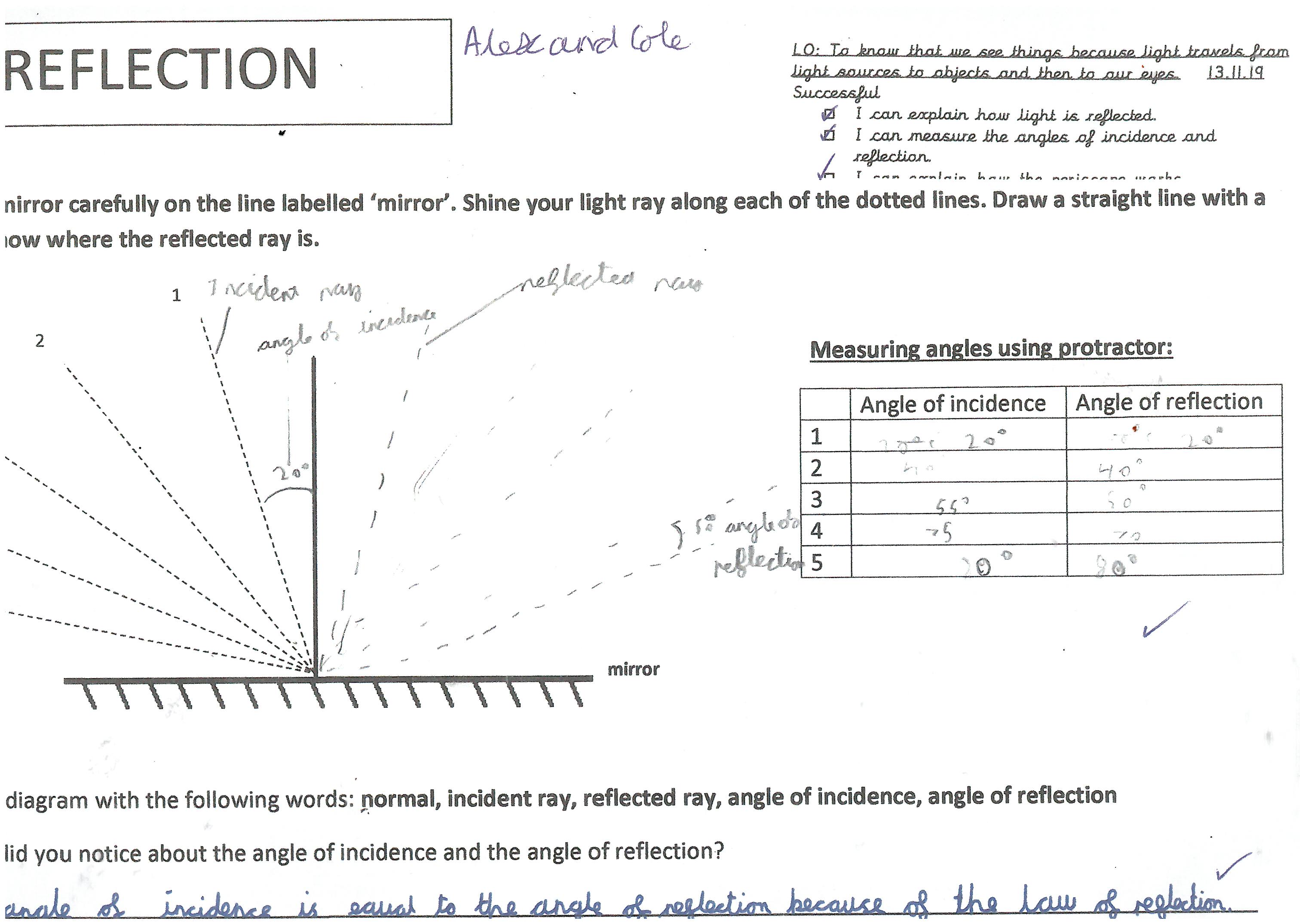 Planet Reports 27 November
In English, we have worked in small groups to create non-chronological reports about some of the planets in our Solar System. We researched information and practised note-taking skills; learnt how to create complex sentences with relative clauses; worked independently to write a paragraph about 1 planet of our choosing; and worked as teams to write an introduction and short summary, then collate all our facts into the work you see below. We are proud of our achievements. Enjoy.
National Space Centre 27 November
On 26th November, Year 5 visited the National Space Centre in Leicester. It was so exciting. Here are a selection of photos so you can get an insight into our trip. We learnt more about Space; enjoyed a show, 'Astronaut', in the planetarium; and had lots of fun exploring the exhibits. We were impressed by the height of the rocket (42m). The long journey was definitely worth it.
Aquarius Class
Here are some photographs of Aquarius enjoying our fun filled day!
Raising money for BRAKE 18 November
Year 5 have successfully organised a 'Wear your Stripes Day' in school, along with a Bake Sale to raise money for BRAKE. They are feeling proud of their efforts.
Throughout the week, we have explored many aspects of road safety including: The Green Cross Code; The ABC of Safety; Safer Cycling (including within our community): and ways to encourage traffic to slow down on our roads.
Here are a few photographs of our learning.
Baking 18 November
Today, Year 5 were baking cookies for the school bake sale to raise awareness for Brake.
Shadows 18 November
Year 5 have been learning about how and why our shadows change throughout the day as part of our 'Destination: Outer Space topic. Here are some photographs of us engaging in these experiments during our Science lesson this week
Remembrance Day 11 November
On Monday, Year 6 visited the local war memorial for Remembrance Day.
Badminton 11 November
Our year 5 topic for this term in PE is Badminton. Here are some of us practicing our backhand shot.
Tropic of Cancer and the Tropic of Capricorn 4 November
Year 5 have been continuing their Geography learning within the topic 'Destination Earth'. Today they worked in groups to show their learning about the positions of Tropic of Cancer and the Tropic of Capricorn. Here are photos of their outdoor learning task. Next week, they will embed this learning further to produce a mini fact file in their books.
Aquarius Class
Aquila Class
Indoor Rugby 29 October
Will from Inspire+ took Antares Class for an indoor rugby lesson taught by an Inspire+
.
Short Divsion 29 October
Antares Class using Numicon to answer short division questions.
Roman numerals 14 October
As part of our Maths learning in Year 5, we have been learning about Roman numerals. To challenge our skills, we had an outdoor learning session where calculations involving Roman numerals were attached to the trees. Here are some photos of us in action.
Forces 11 October
In Science, Year 5 are learning about a variety of forces and how they can be helpful or unhelpful. We have carried out lots of experiments including:
gravity-researching Isaac Newton and measuring gravity using forecemeters;
exploring air resistance through dropping homemade parachutes;
water resistance through designing a streamlined boat to travel across the 'ocean' quickly;
friction through testing a variety of materials that could be used for a new bicycle brake pad
English 9 October
This term in our English lessons, Year 6 have focused on developing their descriptions of settings and characters within narratives. We began the unit of work by reading Carol Ann Duffy's 'The Lost Happy Endings' before planning, drafting, editing and publishing our own stories with a 'twisted ending'. To finish our unit of work, Year 6 read their own 'twisted tales' to Year 3 (Leo Class). The children had a fantastic time reading their stories to Year 3.