Upper Key Stage 2
On this page you will find information and updates for Aquarius, Aquila, Antares and Libra classes.
Year 5 English: Oral Persuading
Today we used our what we had learnt about persuasive devices to have a class debate as well as working in three's to discuss a controversial question. One of us was a judge, one was on the 'for' side and one on the 'against' and our job was to persuade the judge on our viewpoint. We challenged ourselves to use some of the AFOREST techniques we had learnt.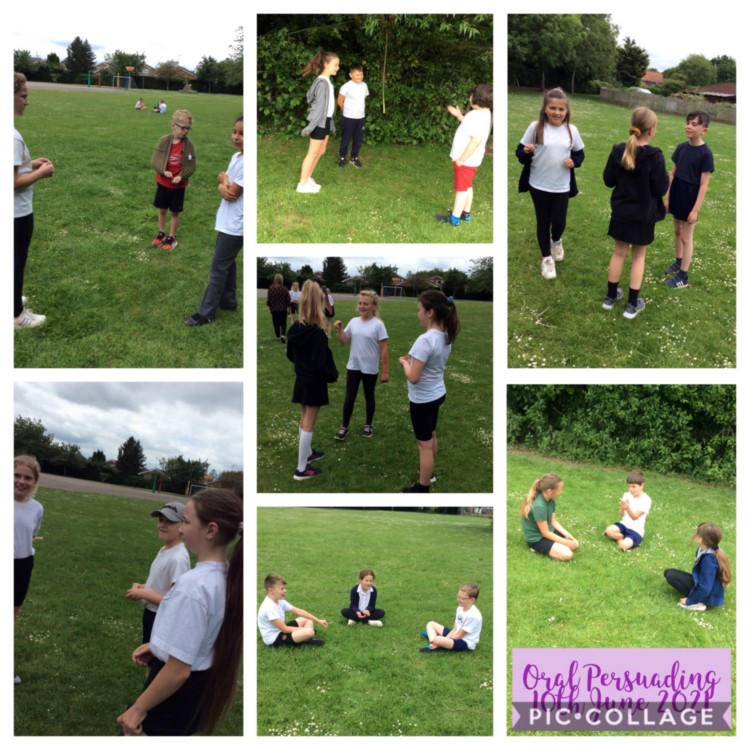 Year 5: Amazon Rainforest Role-Play
Year 5 were exploring the Amazon rainforest (role-play in our secret garden) today. Our current English work is based on The Explorer by Katherine Rundell and in preparation for writing our own chapter for the story, we explored the Amazon. After crashing in a small plane, 4 children were left alone to survive. We built dens and explored characterisation through actions and dialogue, before tasting 'exotic' fruits and braved the crunchy sensation of eating critters (locusts, crickets, meal worms and buffalo worms).
Year 5 Science
Today we have been learning about the bird life cycle and we dissected an egg to learn about how it becomes fertilised. It was very interested. We went on to compare the bird cycle to a different life cycle of our choice.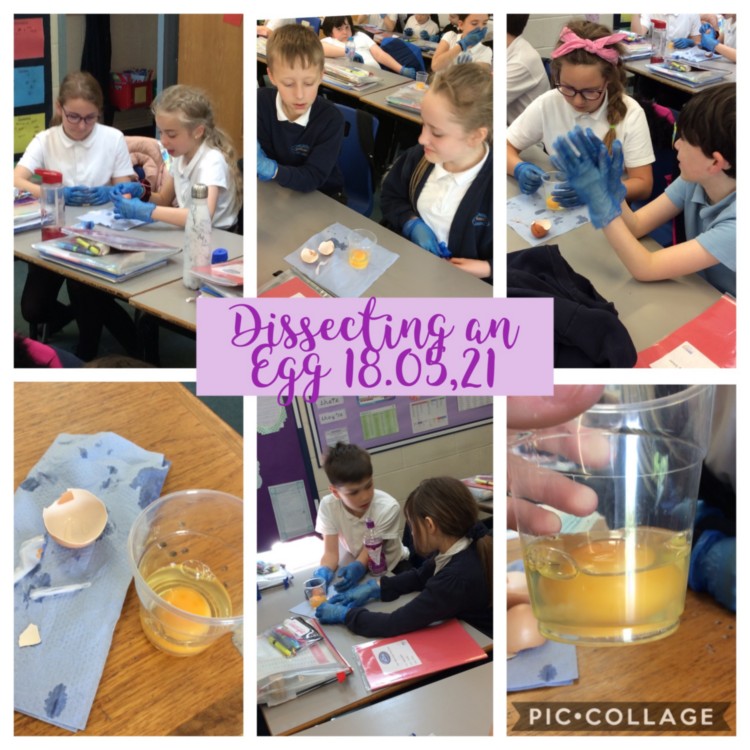 Year 5: Gymnastics
We ended our Gymnastics unit of work today by taking risks on apparatus. We focused on matching and mirroring our partners while creating a sequence of all the rolls, jumps, balances and movements that we have learnt so far this term. It was lots and lots of fun!
Year 5: Exploring Dialogue in Narrative
This week, Year 5 have been exploring the use of dialogue in narratives to convey meaning of characters. We are enjoying reading 'The Explorer' by Katherine Rundell together. We used 2 chapters of this book to search for evidence of characterisation. In addition, we used macaroni to perfect our use of demarcation with commas, alongside accurate use of inverted commas.
Year 5: Maths
Today in Mathematics we were developing our previous learning of multiplying unit fractions, by developing it into multiplying non-unit fractions. We played a very exciting outdoor Maths game and had lots of fun!
Year 5 PSHE
We have been learning all about emergency aid in PSHE this week – understanding what to do in certain emergency situations and how to perform the recovering position.
Year 5: Reproduction in Plants
This week in Science, we have explored reproduction in plants. We have taken stem cuttings from some geranium plants and a leaf cutting from an African Violet. In addition, we have sowed strawberry seeds and planted potato tubers.
Year 5: Clouds Project
As part of our curriculum focus in Year 5, we strive to develop your wider knowledge and cultural capital (in class, we often refer to these as our SPINE activities). Therefore, over the holidays we set ourselves the challenge to learn about the different clouds (cloud types/names and what each of them are like).
Year 5: Science
During this week's Science lesson, we started our new 'Living Things and their Habitats' topic. We dissected tulips to view the different parts of a plant – the male parts and the female parts.
Year 6 Science
In our Science lesson this week, we were learning about 'The Circulatory System'. We began the lesson by exploring what the word 'circulate' means before applying this to the circulatory system. We then looked at how blood circulates our bodies and what it delivers to our organs. We were really impressed with how Year 6 approached this lesson and were able to explain what they were learning about. Well done Year 6!
Year 5 Aquarius v. Aquila
Since the Viking Invaders was our topic this term, we learnt about formations and lots of facts about battles. Today we had our very own Year 5 Viking battle – Aquarius v. Aquila.
Year 5 Investigating Irreversible Changes
For the final lesson of our topic on 'Properties and changes of materials', Year 5 investigated and observed irreversible changes. We were impressed with the 'Magic Hand' experiment and explored the science behind the magic….it was a chemical reaction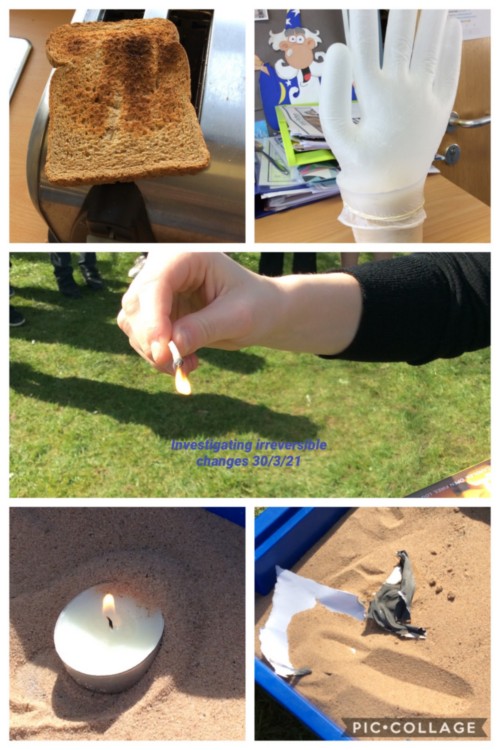 Beowulf Storytelling
In true Anglo-Saxon/Viking style, we wrote our own version of the myth Beowulf. We told these stories around the firepit together this afternoon, listening to each-others and really focusing on our expressions, body language and pitch/volume.
Year 5 DT Viking Shields
with the following caption: 'In Year 5 we have been extending our learning from our termly Topic of Viking Invaders. We learnt about traditional Anglo-Saxon and Viking shields (the materials they were made of, the shape, the colours and other fun facts!) and designed and created our own. We will be having a true Viking style battle on the field next week between Aquila and Aquarius – who will win?!
Year 6 finding the features of newspapers
Year 5
Today, Year 5 have worked well together to make a fleet of Viking paper longboats. We explored Anglo-Saxon artefacts and then designed and created our own brooch out of clay.
Year 5 – Brooch Clay Making
Today, during one of our practical wellbeing activities we completed a quiz about Anglo-Saxon tools and objects to link in with our topic for this term. We designed our own brooches and made these out of clay.
Year 5 Together
Enjoying time together and reconnecting with friends: playing a traditional game of marbles and flying our own paper kite.
Year 5 Outdoor Games
We have been learning different outdoor games including double dutch skipping.
Year 6 Maths
Consolidating their learning on algebra.
Year 5: Mothers' Day
Today one of our wellbeing activities was to show our love and appreciation to our mums and those who look after us. We made some homemade mother's day cards – we had a lot of fun!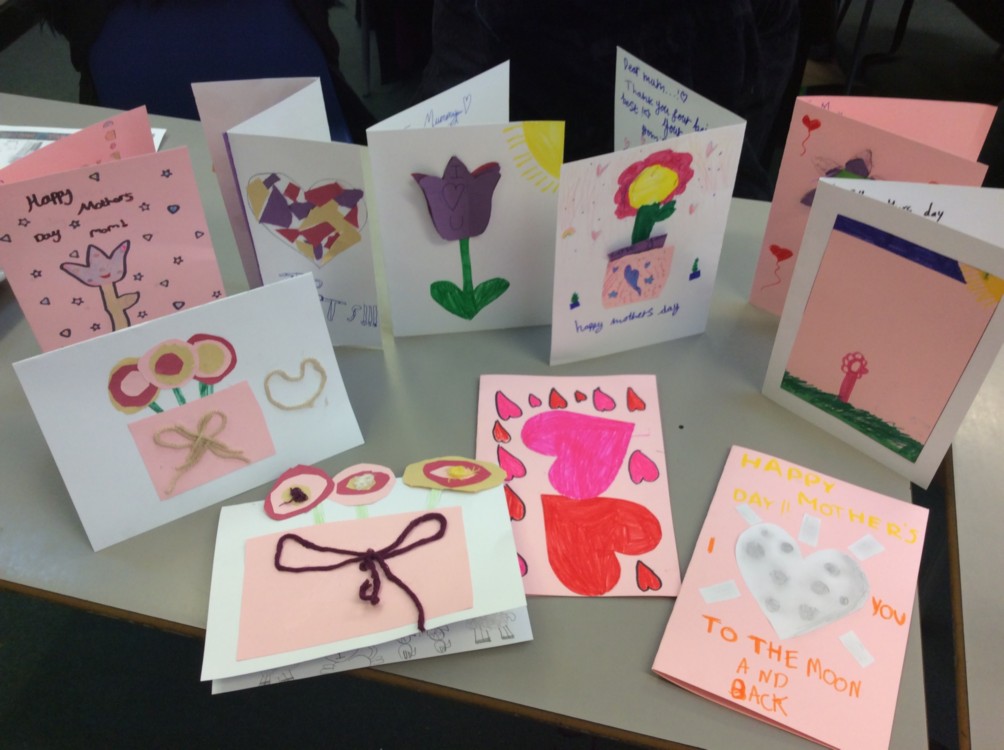 Rainbow Worlds
After reading the book 'Rain before Rainbows', Year 5 created their own Rainbow World, by drawing a rainbow and filling the page with things love in the World and things they enjoy doing.
Year 6: Science
Some more examples of reflection from Year 6 science today.
Year 6: Making periscopes at home
Year 6: WW1 Trenches
Year 6 have been writing non-chronological reports about trenches in WWI.
Year 5: Book Baubles
Year 5 have been working really hard at one of their reading objectives regarding recommending books to friends. Mrs Clark and I have really been impressed with their enthusiasm for reading this term. Aquarius and Aquila have designed baubles explaining why they recommend the book they have chosen as well as drawn a scene or book cover of the book.
Year 6: Wire Loop Games
The children applied their knowledge of circuits and made Wire Loop Games, which they then played with.
Aquarius Pandora (space themed) Non-Chronological Reports
These are our non-chronological reports we have been working on during our English unit towards the end of this term. We showcased these at our Year 5 Space Exhibit.
Year 5 Science Museum
This term our topic has been 'Destination: Outer Space!'
Our teachers set us a challenge of creating our own, unique space projects to share with the rest of the year group and staff members. Some of us made space themed baking treats, some of us made light up Solar System boxes, some of us created detailed fact files and many, many more creations were explored!
We showcased our work at our Year 5 Space Exhibit and invited Mr Lord, Mrs Roscher and Ms Morris to see our wonderful creations. We included our Pandora themed non-chronological reports and our DT Space themed CAM mechanisms too! It was very exciting and we hope you are just as excited viewing them on our website!
Aquila – Safety Week
This safety week, Aquila have been learning about how t stay safe near water.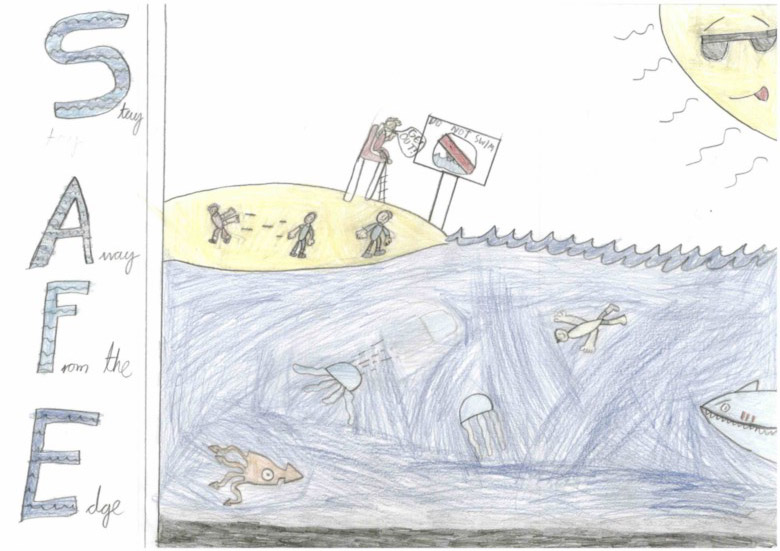 Year 6 Equivalent Fractions game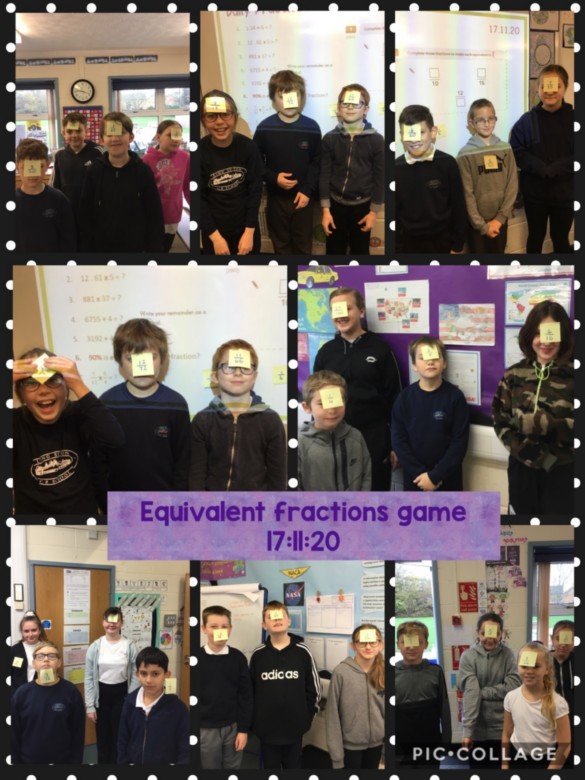 Year 6 Science – Electricity Investigation
Year 6 have been investigating whether the length of the wires used in a circuit have an effect on the brightness of the bulb.
Year 5: Out of this World
Our English over the last fortnight has culminated in the creation of some non-chronological reports that are 'Out of this World'!
Each group really considered the key features and the page layout.
Aquarius – Science
Leading up to this lesson we used our working scientifically knowledge to observed changes over time in regards to our shadows. We predicted whether our shadows would change and if so why, measured the lengths of them and then today, understood explored why they change. We used the facts that we learnt to perform to the rest of the class how we get day and night and used our shadows to prove that the Earth is rotating on an axis.
Aquarius – PE
Today, in Year 5 we started our first lesson on Hockey. We learnt open dribbling and reverse dribbling and focused on having control of the ball.
Aquarius – Geography
In Geography, we were identifying the position of the Tropic of Cancer and the Tropic of Capricorn. We labelled these on a 'globe' outside practically with our group and learnt key facts about the tropical climate!
Year 5 Science
Aquila and Aquarius started our new topic in Science, 'Destination: Outer Space' today by exploring the relative sizes of our Solar System's 8 planets and their relative distances from the Sun. It was amazing.
The spec at the far end of the field is in fact Amelia, representing Neptune.
We have set a Space themed project as Homework for this term and look forward to celebrating their work at the end of term...which we will share virtually this year with families of Year 5 pupils.
Aquarius, PE – Javelin
This week we have developed our accuracy and throwing technique when throwing the javelin. We tried to improve our throws each time and had a peer helping 'coach' us by giving us some tips on our technique. In addition, at the end we completed a challenge in teams. In groups of 3, we added together our throws and worked out a total and compared them against our peers. Our furthest javelin throw today was 15.80m!
Aquarius Clay Pots Art – The Painting Stage
Aquarius Art Clay Points – The Moulding Stage
Aquarius Class: Conjunctions
Today, we learn about subordinating conjunctions and how they can show cause and effect. We based our learning around why bullying is not right and how the smaller birds shouldn't be so unkind to Big Bird. We explored different kinds of conjunctions and some of us challenged ourselves to use a semi-colon!
Aquarius Class: English
This week in English our focus is on Anti-Bullying based on a film clip called 'For the Birds'. Today we explored dialogue and thought about the moral of the story and how it would feel to have unkind comments made about us. We wrote down all the hurtful comments that we think the little birds said about the Big Bird, crumpled the piece of paper up and then tried to straighten out the picture as neat as we could. This wasn't possible and we found out that when hurtful comments are made or when we are being unkind, the person remembers these comments and it scars them. This activity helped us understand the moral of the story and realise that we should all treat each others how we want to be treated.
Aquarius Class: French
This week in French we have been continuing our learning of colours and today we did a practical fun activity learning different movements in French. We took part in a competitive game jumping, turning, clapping, walking and running. It was really fun!
Aquila Class: Sculptures
Our Art focus this term has been sculptures. We looked at images of sculptures made from different materials and at a range of sizes, then we focused on the work of a famous sculptor- Antony Gormley. We were surprised by the size of 'The Angel of the North' sculpture and also by the number of people involved in 'The Field' clay work. We shared opinions and explored what his sculptures were representing. The fun began when Y5 pupils designed and made a coil clay pot t represent aspects of themselves, linking strongly with our PSHE/Jigsaw topic 'Being me'.
The designs were varied and wonderful, also many involved intricate patterns or complicated attachments. They were a great success- have a look at Year 5 in action making, painting and posing with their final creations/sculptures.
Clay making- fun!
The making and posing
Final creations
Antares class: Editing stories.
Antares Class working together to edit their Twisted Little Red Riding Hood stories.
Year 6 Maths
Year 6 have been working really hard in their Maths lessons this week.  We have been learning how to solve division calculations using the formal written method of short division.  As the week has progressed, we have begun to divide numbers with up to 4-digits by 2-digit numbers and today, we even began to express remainders as fractions.  This pictures show some of the fantastic work that the children have produced.  Well done Year 6!
Aquila - Roman Numerals
Challenge questions using Roman numerals were attached to the trees. A very active Maths lesson.
Aquarius – Maths (Roman Numerals)
We have been learning how to read, write and solve calculations using roman numerals up to 1000. Today, we had a hunt outside for roman numerals calculations and worked with a partner to solve them.
Aquarius – PE
Today during PE Year 5 focused on developing our technique and coordination in the triple jump. We worked with a partner to establish the correct jumping position and measured how far we jumped – one of us even beat Miss Hannam! Here are some photos of us in action.
Year 5 Aquarius – Negative Numbers
Aquarius have been learning about negative numbers. We used a numberline outside to practise jumping between numbers, and to help us understand them better, we used double sided counters to solve calculations such as -3 add 5.
Y5 Aquila Maths
Today (Thursday 8th October) we have started learning about negative numbers. Here are a selection of photos of us exploring jumping/leaping along a number line.
Antares Class introductions to their Twisted Red Riding Hood Tales.
Year 5 Active Maths
On Friday 2nd October, Aquila reinforced their understanding of using < and > symbols through an active maths game.
Year 5 PE – Aquarius Class
This week in PE Year 5 have been learning how to develop their power, control and consistency in jumping for a distance. Each of us had a go at being an official, a coach, a measurer and a long jumper. It was a lot of fun and the majority of us improved our long jump distance each time!
Aquarius and Auila Class Maths
Year 5 have been using a Gategno chart to embed our work on place value and explore the 'Powers of 10' (adding/ subtracting 10/100/1000/10,000).
Libra Class Maths
This week in our Maths lessons, Year 6 have been solving multiplication calculations using the formal method. We have been multiplying 4-digit numbers by 1-digit numbers using place value counters before moving on to solving written calculations. We have all been working really hard to develop our understanding of using this method so that we can apply our knowledge in our weekly 'Mental Arithmetic' tests. The pictures show some of our amazing work and our responses to some tricky 'reasoning' problems.
Year 5 Science
Year 5 enjoyed exploring water resistance in this week's Science lesson (29/9/20). Here are a few photos of them investigating shapes using plasticine.
Last week, we explored air resistance by making and dropping parachutes: either made from different materials, or made to different sizes. We found this easier to understand and explain than water resistance.