Long Sutton County Primary School is proud to have extended its nursery provision to full time during term times. We have a new, highly experienced team who will lead our improved nursery provision in a fully renovated building.
We aim to promote and provide a stimulating, rich and positive environment, where children feel comfortable and confident. We encourage and value learning through play.
Play is the children's work. It is natural, essential and instinctive. When children are learning through play they learn willingly. Through play and through quality interaction with friendly knowledgeable adults the children develop their skills and understanding.
Other Documents
If you are interested in registering your child into our nursery these documents will give you everything you need.
Curriculum Overviews
If you are interested, please contact the school by email or by phoning 01406 363381
Our Duckling Experience
The children were very excited when six eggs arrived in Nursery and a discussion followed about what could be in the eggs. We had a wide range of answers and then just waited to see what was going to hatch. When the first duckling hatched the children were fascinated. In the week that followed the children were able to stroke the ducklings, watch them swim and watch them sleep under their heat pad. We talked about what a duckling needs to grow and looked at how quickly they grow.
Gruffalo Hunt
As part of Word Book day week, the children went on a Gruffalo hunt on the way to the woods. They found lots of mice as well as fox, snake and owl. The Gruffalo was hiding in the Den the children had made a few weeks ago.
Alan the Alien
We found a crashed spaceship in our wooded area and a green alien in the tree. Once back in nursery we explored space and looked at the planets as well as pretending to launch our own spaceship. We had a very busy week the children felt sad when Alan the Alien went home.
Fun in the snow!
Wooded area
The children had lots of fun in the wooded area today. They made homes for ladybirds, played a parachute dame and used their imagination to create their own games.
More fun with pumpkins
Today we have looked at what happens when we mix Bicarbonate of Soda and White Vinegar. The children were so excited when the mixture erupted from the pumpkins.
Pumpkins
We have been very busy exploring pumpkins. Today we decided to make soup after reading the story 'Pumpkin Soup' by Helen Cooper. The children helped by peeling the pumpkin with a potato peeler and then cut it into small pieces. Most of the children tried the finished soup.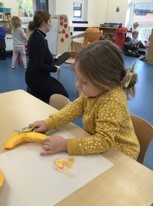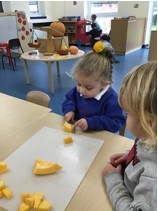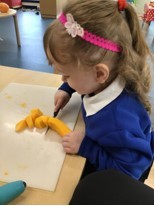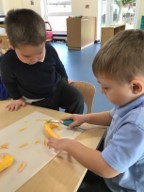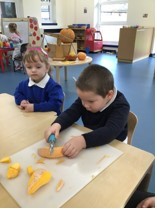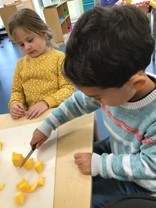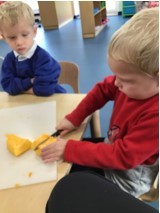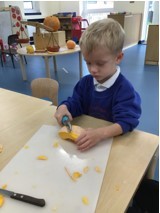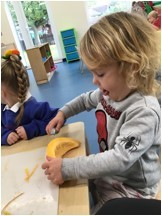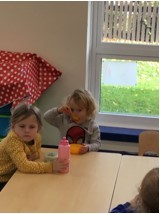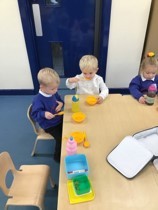 Mark Making and Writing Skills
At nursery the children have been practicing their mark making and early writing skills. We have used our fingers to write in the glitter and the shaving fun, we had so much fun!